You are: Home

Luxury for everyone: Chapters from history and present of art crystalware
Luxury for everyone: Chapters from history and present of art crystalware
Petr Nový - 4. 10. 10:12
Volume six: Forgotten greats – firm Josef Riedel. In the field of domestic and decorative pressed glass, Czech and Moravian manufacturers had never been among the major world players who could match the USA, Germany or France. A different situation is in the case of luxury pressed glass, for which Jablonec inventive exporters started to use the name "art crystalware" in the first half of the 20th century. The first word refers to the design excellence, the second to the word crystal, which has reliable effect to customers in conjunction with Czech glass till this time. What is it art crystalware then? By who, how and for whom it has been manufactured? This series will seek answers to these and many other questions.
Today many antique dealers and collectors know only two firms that devoted to art crystalware in Jizerské Mountains region – Heinrich Hoffmann and Curt Schlevogt.
Both the disruption of historical memory by expropriation in 1945 and perhaps even the unwillingness to accurate identification are responsible. It is easier (and certainly more profitable) to take firm Schlevogt as a model than someone basically unknown. Preserved samplers of other companies make it clear that there were more producers and they also deserve their place in the sun.
Art crystalware made by Josef Riedel firm from Dolní Polubný
Josef Riedel firm was the largest glass-making factory from Jizerské Mountains ever, as it had directly employed up to 2500 people. In addition to many glass-works that made it a dominant supplier of semi-products for custom jewellery in Jablonec, it also ran its own refineries, bronze foundry, bead factory, cotton mill and weaving mill and also one of the local spa. This text, however, will pay attention only to a part of its production, namely crystalware and art crystalware. It is well known that the Riedels were the largest producers of semi-products for this type of glassware. Among their customers were almost all firms that have been mentioned in this series. Less has been known that they paid attention to their own designs as well.
The center of spectacular entrepreneurial activity of the firm was Dolní Polubný, where Josef Riedel, a glass-work master from Jizerka and Antonínov, bought almost new glasswork in 1849. After its expansion he began to produce flacons, pressed glass, hollow glass, glass rods and tubes and since 1873 luxury hollow glass as well. Three glass furnaces had been already burning in the glasswork. After 1879 the firm transferred pressed and pre-pressed flaconware from Polubný to the newly built glassworks in Dolní Maxov. After 1889 the Riedels began to devote in large to the patterning of pressed and blown glass lightbulb covers, and later, including a patented waterproof types, suitable for public lighting. The firm also remained the most important producer of flaconware in Jizerské Mountains region, when the production volume had increased eleven times (1870 – 388 t, 1898 – 4300 t)!
Josef Riedel, the founder of the firm, died in 1894. The firm inherited his sons Wilhelm, Otto and Josef jr., who on January the 2nd of the following year had registered the trademark Josef Riedel, Polaun. The firm had quickly overcame the difficulties associated with the World War and successfully took part in several important presentations in twenties and thirties of the 20th century. In 1925 a collection of the firm celebrated great success at the International Exhibition of Modern and Decorative Arts in Paris, where it won in addition to the Grand Prix the gold medal as well. Among exhibits there was a unique glass fountain, which had been designed by Pavel Janák and Jaroslav Horejc, located now in the permanent exhibition of the Jablonec Museum of Glass and Jewellery. The glassworks gained the gold medal also for its collection presented at the World Exhibition in Brussels in 1935 and significantly contributed to the visage of the Czechoslovak pavilon for the World Exhibition in Paris in 1937 (a wall of crystal rods, glass beads ceiling). In the same year the glassworks in Polubný made a dimensional relief called Countries and people for the UN Headquarters in Geneva, designed by Jaroslav Horejc.
In the thirties the Riedels also began to design their own patterns of art crystalware, albeit not very original. Noteworthy is a range of electric lights, as evidenced by a collection of nearly four hundred of photographs, today stored in the Jablonec Museum. In addition to pressed figural sculptures in the style of Lalique, Sabino, Legrand or Schlevogt (for example a variation of Girl in the Wind from Ingrid collection), which served as pedestals, decorations and electric lamps or candlesticks shades, it was also pressed table lamps of elegant and pure functionalist shapes from colorless crystal. Luxury production of lightings and hollow glass was signed by oval trademark with initials JRP and a figure of glassmaker with blowpipe. In 1938-1939 the Riedels also become the owners of certain parts of Heinrich Hoffmann firm and other regional firms.
Since the end of 1938 – after so-called German annexation of Sudetenland – the significant part of Dolní Polubný glassworks capacity had been used for military production until 1945. From pressed glass, for example, there were melted semi-optical prisms for tank periscopes, components of landmines, etc.. The production was ceased from lack of coal just before the war ended in 1945. After that the firm was expropriated and conducted under the name Glassworks and refinery national enterprise, formerly Josef Riedel Dolní Polubný, later Jablonec Glassworks.
Next time: A synonym of success – art crystalware by Curt Schlevogt firm (Ingrid collection)
Trademark of Josef Riedel firm, 30s of the 20th century
Reproduction from period directory. On real objects stored in Jablonec Museum of Glass and Jewellery is used an embossed gold sticker.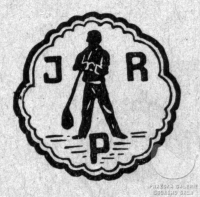 Josef Riedel Glassworks in Dolní Polubný, early 20th century
Photography from the collection of Museum of Glass and Jewellery in Jablonec nad Nisou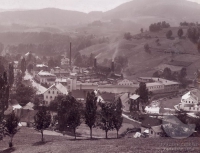 Electric table lamps, before 1938
Firm Josef Riedel, Polubný
Pressed ground crystal glass, plates of different shapes from clear ground glass spray-painted, pedestal from black pressed glass
Exposition of Museum of Glass and Jewellery in Jablonec nad Nisou
Electric table lamps, before 1938
Firm Josef Riedel, Polubný
Pressed ground crystal glass, metal, rods from clear glass
Exposition of Museum of Glass and Jewellery in Jablonec nad Nisou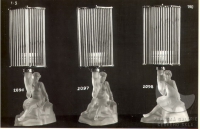 Electric table lamps, before 1938
Firm Josef Riedel, Polubný
Pressed crystal and transparent purple ground glass, metal
Exposition of Museum of Glass and Jewellery in Jablonec nad Nisou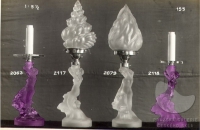 Electric table lamps, before 1938
Firm Josef Riedel, Polubný
Pressed crystal ground glass
Exposition of Museum of Glass and Jewellery in Jablonec nad Nisou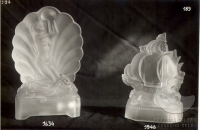 Electric table lamps, before 1938
Firm Josef Riedel, Polubný
Pressed yellow glass, metal, lampshade apparently from cardboard
Exposition of Museum of Glass and Jewellery in Jablonec nad Nisou
Electric table lamps, before 1938
Firm Josef Riedel, Polubný
Pressed crystal and colored ground glass, metal
Figures for 2771 and 2772 lamps are variations on Girl in the Wind by Curt Schlevogt firm
Exposition of Museum of Glass and Jewellery in Jablonec nad Nisou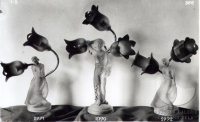 Shade in front of an electric lamp in the style of Sabino, before 1938
Firm Josef Riedel, Polubný
Pressed crystal ground glass
Exposition of Museum of Glass and Jewellery in Jablonec nad Nisou