You are: Home

Crisis and Boom in Glass and Jewellery Industry
Crisis and Boom in Glass and Jewellery Industry
Petr Nový - 24. 11. 17:49
Part two: 1815 – 1873 The words glass and jewellery appear nowdays in media under only one word – crisis. Taken out of context these six letters really have a demonic effect. Therefore, it is good to remind that deep depressions, which contemporaries have considered to be existential, aren`t for this pro-export branch nothing new. Similarly, the boom years have always come to return, so there is no reason to believe the economics would stop unwinding in cycles. The following text will trace us back to the most significant economic milestones in history of this important Czech artcraft industry.
Situation in the first half of 19th century
The beginning of 19th century caught Czech glass and jewellery in phase of deep economic crisis of Hapsburg monarchy, culminating after the previous war defeat inflicted by France in 1809. An effort to deal with the lack of silver coins by an emission of paper money, so called bankocetle, ended up in financial failure of state. Since glass industry was even in disfavour of ruling fashion and aesthetic canons, plenty of firms went bankrupt at that time, for example lot of business companies from Nový Bor area.
After the end of the Napoleonic wars and the pacification of situation in Europe, the Czech glass industry, on the contrary, went through the long period of prosperity between the years of 1820 – 1850 culminating in 30s of 19th century. That was with a significant contribution of a new fashion style, called biedermeier, indulging in vivid colors and imitations of products of nature, to which czech glass makers managed to adapt quickly. A role of prestigious big names surely can`t be ignored – technologists and courageous businessmen – Friedrich Egermann, Johann Pohl, count Georg Franz Buquoy, Johann Meyr or Franz Riedel (new colors and types of glass, glazings, laminated glass, thread glass ect.), and also excellent refiners for example glass engraver Dominik Biemann. In jewellery, glass factories established themselves as main bases of semi-product manufacturing, namely from non-compositional glass, which has an effect on high increase in input.
Business liberalization in the 50s of 19th century
In the 50s of 19th century, a certain stagnation of Czech glass industry occured, caused by late reaction of most firms to an onset of historicism and a certain reluctance against technological and production modernizations, so typical for "western" competition and USA of the day. Together with modernization and liberalization of the situation in the empire, however, groundworks of future economic prosperity were created. In consequence of the revolutionary year 1848, a servitude was abolished, two years later the chamber of commerce and chamber of trade were established and tariff policy changed from prohibitory to protectionist in 50s (customs frontier with Hungary was abolished, most export and import restrictions were cancelled, General customs tariff was released). Economic liberalism got into Hapsburg monarchy completely with The Trade Licensing Act of September 20th 1859, a modern precept of law instituting total freedom of production and business. Trades were devided into free (majority) and licensed, guilds ceased and were replaced by professional unions. "Liberation" of business from strict regulations continued also in the following decade.
Industry boom in the 60s of 19th century
General economic boom dominated in years 1860 -1873, especially in 1867, which also concerned glass and jewellery industry. New glass works, refineries and export firms were being built all over the place, not only in Czech lands but also in Hungary (including territory of present Slovakia)."The gründer time" came. An input increase was pleasing though, new manufacturing branches were being set up and developed (metal jewellery, cristaleria, pressed glass etc.), but what remained the same was graphic regression and falling behind european competitors with "trendy" decorative glass goods. As a result of this fact, they frequently lured consumers to acceptable price (almost undercharged), which was a beginning of future burdensome problems. Thus, on the world markets the Czech glass gained a reputation of an advantageous product in quality and price scale, but without a mark of exclusivity which it had last time during biedermeier. On the contrary, this was saved by English and French production which was fully imitated in Hapsburg monarchy.
As a result of the first world conjuncture, it was the first world crisis which stroke unexpectedly in the spring of 1873. Economic liberalism found its boundaries which meant end for plenty of glass and jewellery firms. As a height of crisis is considered the year 1875, however, in glass and jewellery industry the situation didn`t improve even after that.As an illustration – only a number of exporters of jewellery in Jizerské hory decreased almost one third between years 1870 -1876!
Next time:Crisis and Boom in Glass and Jewellery Industry (1873 – 1900)
Chalice – Bakchus, 1850-1870
Semi-product and cut, Earl Harrachov glass factory, Nový Svět
Karl Pfohl (1826-1894) style engraving, Kamenický Šenov
Crystal glass laminated with copper ruby, cut, engraved
Fixed exposition of Museum of Glass nad Jewellery in Jablonec nad Nisou
Photo Tomáš Hilger (2009)
Singer`s chalice with a lid for Jablonec ensemble Liederkranz, 1866
Earl Harrachov glass factory, Nový Svět
Cristal glass, blown, delustered, glued garnet pearl painted with gold, gold painting – flower ornaments and vine leaves, two medallions of milk glass painted with enamel and gold
Fixed exposition of Museum of Glass nad Jewellery in Jablonec nad Nisou
Photo Tomáš Hilger (2009)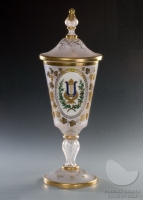 Shell – flacons box, 1840-1860
Earl Harrachov glass factory, Nový Svět
White opal glass, blown, painted with gold, glued jewellery stones, montura of yellow metal, flacons of blue opal glass
Fixed exposition of Museum of Glass nad Jewellery in Jablonec nad Nisou
Photo Tomáš Hilger (1998)
Goblet with handle – a gift to name day, 1841
Firm Franz Riedel, Jizerka (Wilhelmshöhe)-Antonínov or Earl Harrachov glass-factory, Nový Svět
Uranium glass Anna yellow (Annagelb), blown, cut, painted with gold – non-rococo ornaments, text
Fixed exposition of Museum of Glass nad Jewellery in Jablonec nad Nisou
Photo Tomáš Hilger (2009)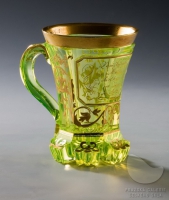 Goblet – Portrait of an unkown man, 1826
Semi-product and cut, Earl Harrachov glass factory, Nový Svět
Engraving Dominik Biemann (1800-1857), Praha or Františkovy Lázně Crystal glass, blown, cut and engraved
The oldest known signed engraver`s work – signed at the bottom D.B. 1826
Fixed exposition of Museum of Glass nad Jewellery in Jablonec nad Nisou
Photo Tomáš Hilger (2009)
Brooch and earrings, around 1860
Jablonec area
Gilded tombac, cut glass imitation of emerald
Fixed exposition of Museum of Glass nad Jewellery in Jablonec nad Nisou
Photo Tomáš Hilger (2004)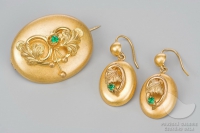 Buttons sample-card, 1860-1875
Jablonec area
Pressed black and white opaque glass, painted
Fixed exposition of Museum of Glass nad Jewellery in Jablonec nad Nisou
Photo Tomáš Hilger (2007)